Bellingham Esthetician | Elizabeth & Erika explain Dermaplaning
Dermaplaning!
This is one of my favorite things to do since officially becoming a licensed Esthetician earlier this year! There is something so satisfying about seeing piles of "peach fuzz" and dead skin come away from my clients faces to reveal the glowing, youthful, silky soft skin underneath. I LOVE IT.
Because this is a process I get asked about often, Erika and I decided to do a little explanation for you! I will explain what I am doing and she will be explaining how it feels being done to her face! Now every face is different, thus the experience will differ a bit (custom products, treatments, etc). Generally though, this should give you a good idea of what it's like to receive a dermaplaning facial.
I do a cleanse and gentle scrub of your face to remove any grime from the day. The cleanser is removed with a warm steam towel which does double duty in opening up your pores as well.
HOW IT FEELS.
The first two steps, the cleanse and tone. I'll just stop here and say that a majority of this particular time I wasn't present for because it feels like you are getting a face massage and puts you in ultra relaxation mode! I would literally go back just for that!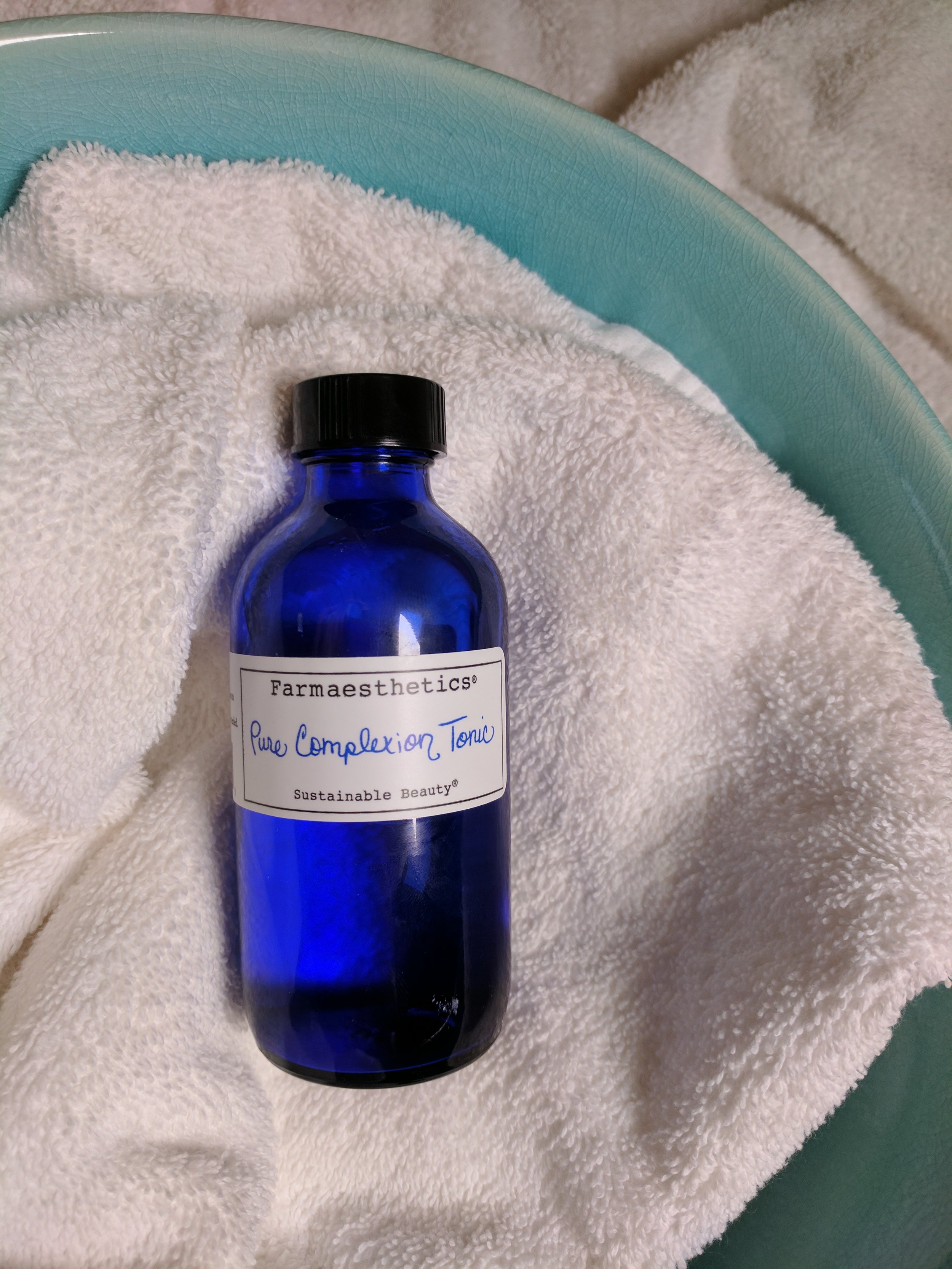 A toner is applied to bring your skin back to it's happy place and balance it's pH levels.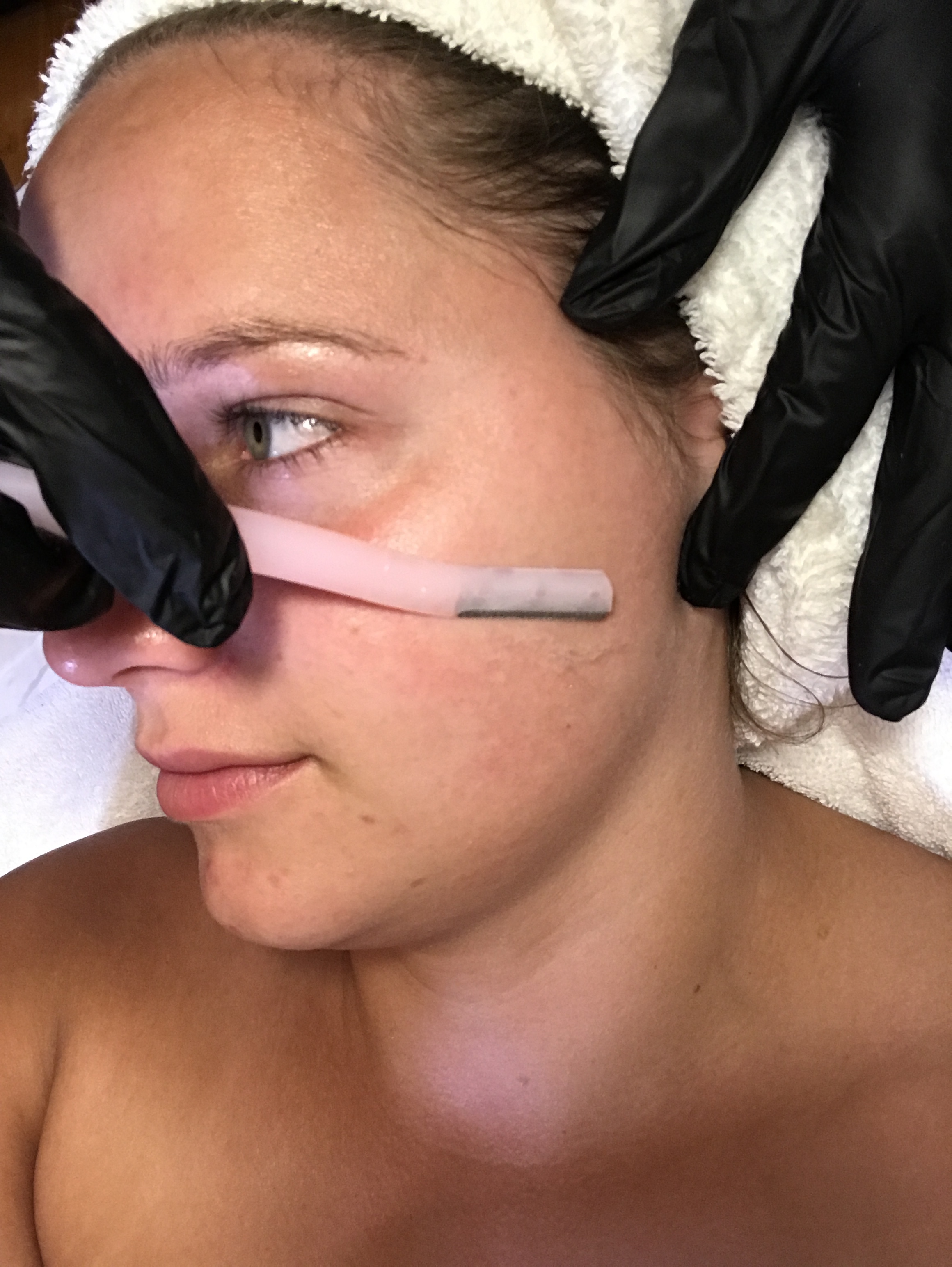 I unwrap a brand new scalpel and slowly begin to "scrape" your face, starting on the forehead and working downwards. This removes dead skin as well as the "peach fuzz" from the face.
HOW IT FEELS.
Then came the scalpel! I would say that the best way to describe it would be 'a gentle scraping along my face.' At times it would maybe feel weird or uncomfortable, (particularly by the hairier portions of my face) but it didn't hurt at all! The worst part was wondering where the heck all this gunk was coming from on my face, and also thinking that I might want to try exfoliating a little more! Halfway through, Elizabeth let me touch either side of my face, and what a difference just in touch! One side felt baby smooth and the other was pretty rough.
Once the dermaplaning process is complete and I have removed all the build up, any product I apply afterwards will be that much more effective. From here I apply a mask customized for your skin type. For Erika we used the Herbal Hydration Complex from Farmaesthetics, which is my ABOSULTE favorite right now!
HOW IT FEELS.
After showing me all the dead skin and hair that came off my face, Elizabeth moved on to the mask, which was slightly tingly and cool.
Step 5. Scalp massage. (YAY!)
HOW IT FEELS.
Time to let the mask sit and on to scalp massage! At that point I was very super relaxed and yawny , because Elizabeth has magic fingers, seriously, not kidding! Well I'm going to be honest with you, I don't remember much after the scalp massage, I'm pretty sure I almost fell asleep!
Step 6. The mask is removed with another warm steam towel.
Step 7. Another round of toner for the same reasons.
A nourishing oil is gently massaged into the skin.
A facial lotion/sunscreen is applied to the skin
Then we are good to go! Overall the skin is looking slightly rosey due to the improved circulation, it's softer due to the exfoliation, and silky because all the "peach fuzz" is gone! Makeup goes on like a dream after this facial, but I like to encourage people to keep makeup to a minimum for the rest of the day so their skin can really soak in the full benefits.
How it Feels
All in all, it was a wonderful experience, and I would recommend to anyone to get dermaplaning done. And if you have something against beautiful, healthy glowing, baby soft skin, then just choose one of her many other services and go see Elizabeth because she is amazing!
No facial blog is complete without a good before and after! (Left to Right)
In case you wanted to try any of these awesome products yourself, I have linked them here for you! This is not a paid advertisement, but I do receive a small percentage (at no additional cost to you) should you choose to buy through these links! Win win!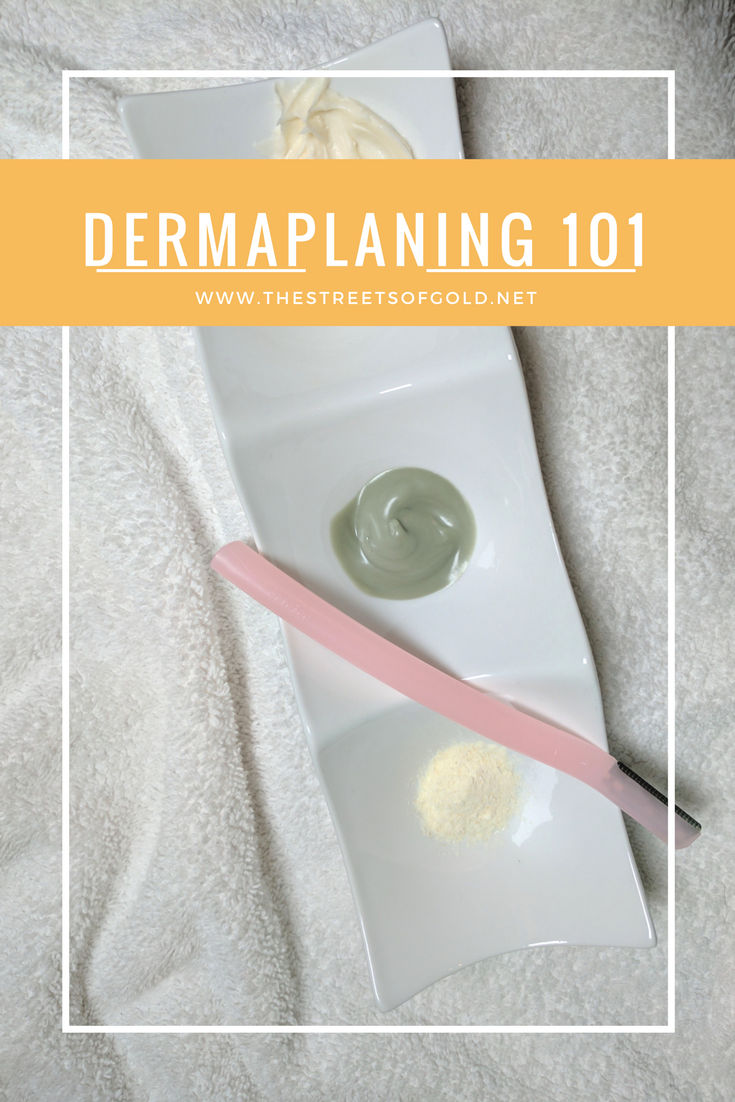 Elizabeth Marie Hayes